Gift voucher
Senior program / Pre-registration and registration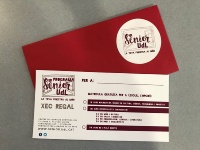 The SENIOR PROGRAM also offers the possibility of giving training.
With this check you can give a relative, friend, employee, ... with any of the courses and qualifications offered by the Program.
It is only necessary to indicate the preference: Senior Diploma, University Specialist or Open Classroom, and write the name of the beneficiary.
You can stop by the offices and we will inform you:
c/ Jaume II, 71
(Cappont Campus, office 0.12)
or call the phone
973706634
and if it's easier for you, send an email to